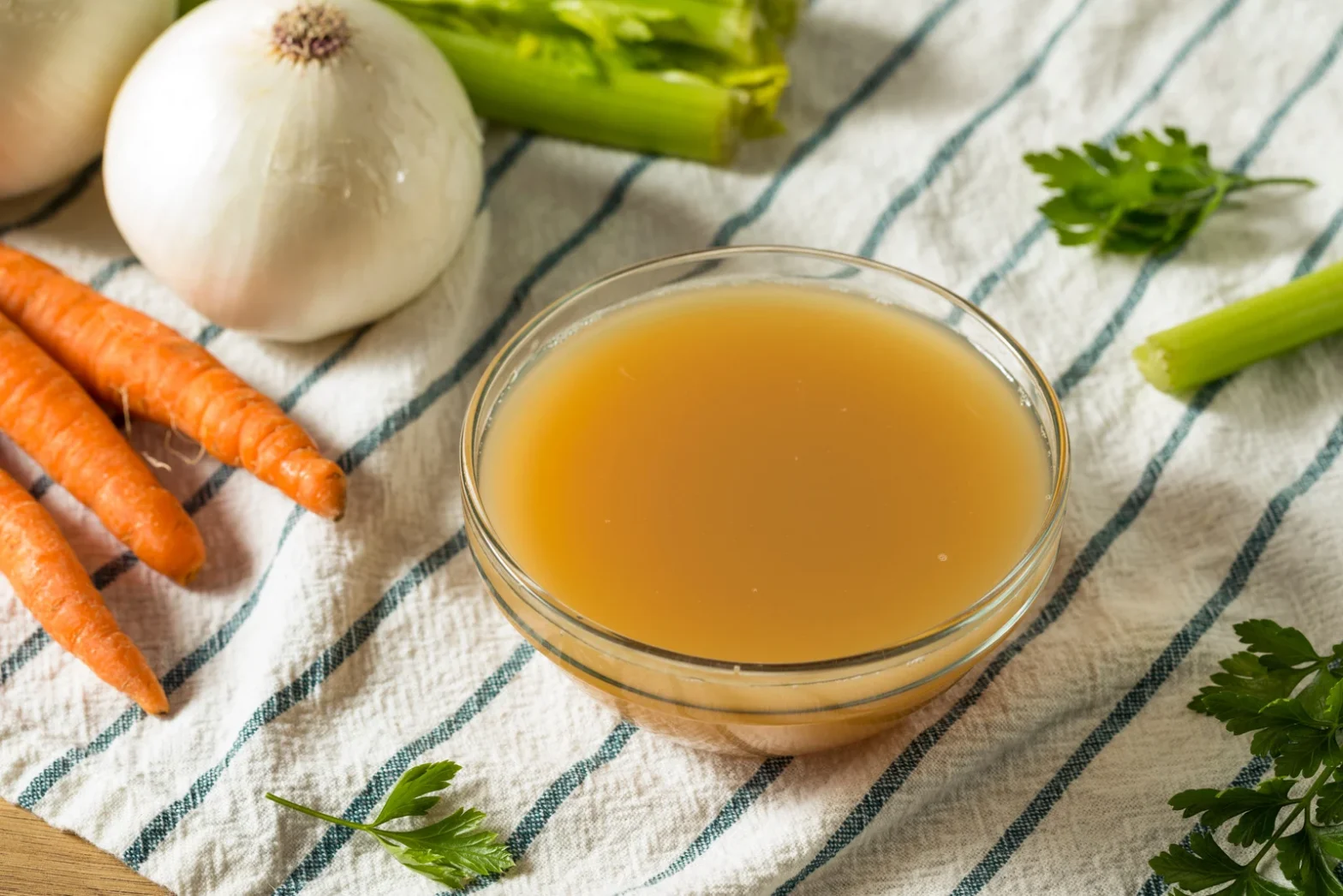 Ingredients:
3-6 Beef Bones (can also use chicken bones)
2 Onions
6 Cloves of garlic
3 carrots
3 sticks of celery
2 sprigs of fresh or dried rosemary
2 sprigs of fresh or dried sage
1 medium piece of fresh ginger
3-5 small pieces of turmeric
6-8 Dried Cloves
1 tbsp black pepper
2 tbsp of Apple Cider Vinegar
Preparation:
Step 1:
Blanch Bones – Place bones in a large pot, cover with cold water, bring water to a boil and let simmer over high heat for 10-15 minutes. Drain and rinse bones.
Step 2:
Can skip this step with chicken bones but highly recommended for beef bones for a cleaner, better tasting broth.
Step 3:
Roast Bones & vegetables. Preheat the oven to 450 F. Transfer bones and chopped vegetables to a roasting pan (avoid piling them all on top of one another – use 2 pans if needed.)
Step 4:
Roast for 30 minutes then gently toss vegetables and bones and put back in the over for another 15-30 minutes.
Step 5:
Transfer to Stockpot. Place all vegetables and bones in a large stock pot (be sure to use all brown pits and juices remaining in the roasting pan.)
Step 6:
Add in rosemary, sage, any additional spices and apple cider vinegar to the pot. Add ~15 cups of cold water (cover ingredients by 1 inch.)
Step 7:
Bring to a boil. Reduce heat and simmer for a minimum of 8-12 hours (continue to add water if needed as you want bones/vegetables completely submerged.
Step 8:
Strain. Once the broth is done, strain the liquid through a fine mesh strainer. For a clearer broth, you can strain again through cheesecloth.
Step 9:
Set broth aside to cool as it will be very hot. Once cooled, skim off the layer of fat
Storage:
Can store in the fridge for ~ 5 days in a sealed container. Can store in the freezer for up to 6 months.
Tips:
Best bones for broth – knuckles, joints, feet, marrow. Added flavor can be drawn from oxtail, shank, and short ribs as they are meatier cuts.